Perfect quality and low price and shorter delivery time-these are gradually becoming standard requirements in today's printing market. This requires people to come up with smart solutions, for example, to integrate post-press processing into the printing process. Printing, finishing and online die-cutting, and it must be done in top quality. Don't you believe it? So please take a look at this sample.
Printing machine configuration:
Rapida 106-6 + (dual varnishing unit), extended two-plate paper-receiving unit printing unit 1-4-6: alternately used for conventional, composite and UV production general-purpose ink rollers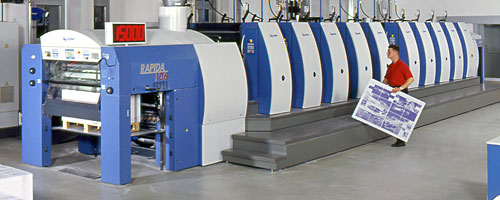 KBA Rapida 106
KBA VariDry drying device technology:
-3 UV inter-unit drying devices, each equipped with a 200 watt / cm lamp tube -Each printing unit is equipped with joint accessories for inter-unit drying devices -2 intermediate drying devices, each equipped with There are infrared and hot air drying devices-extended paper receiving device equipped with infrared and hot air drying devices-3 UV drying devices placed at the end of each 200 watts / cm varnishing unit 1: cavity scraper equipped with anilox roller, For UV / water-based varnishing and varnishing unit 2: Anilox rollers that can be used for online die-cutting and varnishing unit 1: 80 lines / cm, shadow line, absorption capacity is 17 cubic centimeters / square meter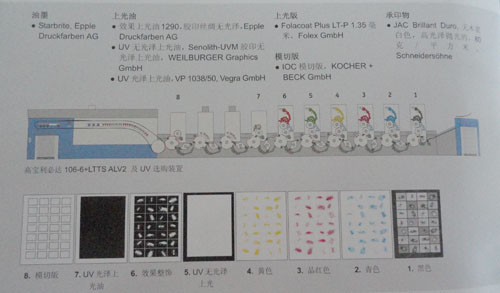 Production technology:
1st to 4th printing units: Composite overprinting primary colors 5th printing unit: UV matte varnishes compatible with offset printing, partly glazed 6th printing unit: oil-based plus varnish, partly varnished Drying device: in the 4th and 5th printing units and drying device 2 as inter-unit drying device glazing unit 1: UV gloss glazing oil, partial glazing drying device 1: infrared and hot air drying device working drying device 2 : Infrared and hot air drying devices turn off the glazing unit 2: Paper-receiving device with extended die cutting board: Infrared and hot air drying devices are turned off and placed in the last UV drying device to work
Compound finishing plus die-cutting effect
The composite overprinted primary colors are printed in the 1st to 4th printing units and cured with a UV inter-unit drying device. The fifth printing unit performs a UV matte varnish compatible with offset printing to produce a matte frame. After drying in the unit, the composite effect that has been demonstrated in Example 4 is added to the printing sheet by combining the oil-based printing bright oil and the UV gloss varnish. Then, the inter-unit drying device after the second drying device dries the printed sheets. The second glazing unit was subsequently modified for online die cutting of printed sheets. The work of the final UV drying device ensures that the ink and varnish are completely cured.
In order to perform online die cutting, the glazing unit needs to be modified with the following steps:
1. Empty and clean the cavity scraper system 2. Remove the anilox roller and cavity scraper 3. Remove the polishing plate 4. Install the die-cutting plate in the same way as the polishing plate 5. Put the self-adhesive Sliding foil mounted on the impression cylinder
In order to get the best quality, it is recommended to replace the soft cover of the glazing cylinder with a harder cover. Be especially careful when setting the "printing pressure" between the die-cut plate and the impression cylinder. The thickness of the sliding foil must be taken into account to avoid the risk of excessive pressure.
Intelligen Touch Table as a new type of coffee table combined with high technology, it integrates many functions in one table, and has significant advantages in human interaction.
Touching the LCD screen of the desktop, it could be realized entertainment and business functions, brings a good experience. The touch coffee table is mainly composed of coffee table, main control system, touch system, imaging system, multimedia control system, etc.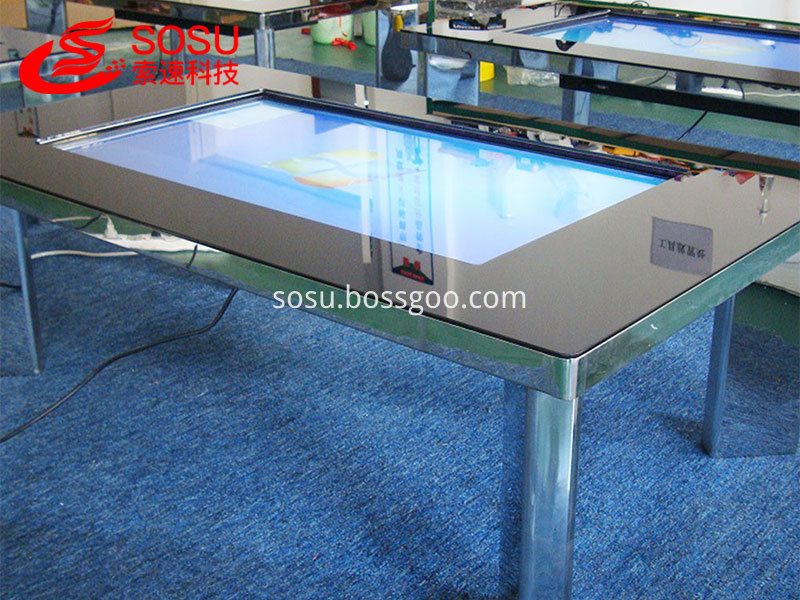 Touch Table
Touch screen table,Touch screen kiosk,Touch screen coffee table ,Tea,Meeting touch table
Guangzhou Sosu Electronic Technology Co., Ltd. , https://www.sosuchina.com